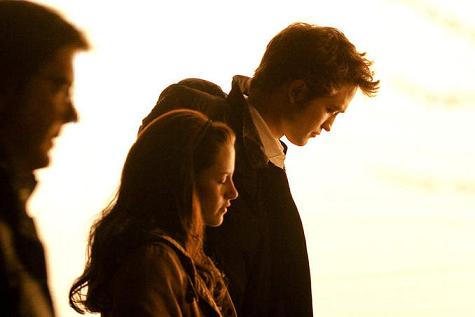 Sono state pubblicate dal blog del Los Angeles Times Hollywood Backlot una valanga di foto scattate da David Strick sul set di Twilight New Moon, durante le riprese ad aprile.
Confermati i Muse nella colonna sonora ufficiale del film. Ecco qua l'intera tracklist ufficiale annunciata su Myspace:
1. Death Cab For Cutie – Meet Me On The Equinox
2. Band Of Skulls – Friends
3. Thom Yorke- Hering Damage
4. Lykke Li – Possibility
5. The Killers – A White Demon Love Song
6. Anya Marina – Satellite Heart
7. Muse – I Belong To You (New Moon Remix)
8. Bon Iver and St. Vincent – Rosyln
9. Black Rebel Motorcycle Club – Done All Wrong
10. Hurricane Bells – Monsters
11. Sea Wolf – The Violet Hour
12. Ok Go- Shooting The Moon
13. Grizzly Bear – Slow Life
14. Editors – No Sound But The Wind
15. Alexandre Desplat – New Moon (The Meadow)
Qua di seguito potete vedere le foto che mostrano i tre protagonisti, Robert Pattinson, Kirsten Stewart e Taylor Lautner, insieme al regista Chris Weitz, durante alcune fasi di realizzazione del film.
no images were found
Tratto dal secondo libro della saga di Twilight di Stephenie Meyer, l'attesissimo New Moon uscira nelle sale cinematografiche il 20 novembre 2009. Mentre per il terzo episodio, intitolato Eclipse, diretto da David Slade, bisognerà  aspettare fino al 30 giugno 2010.