Letters to Juliet è un film di Gary Winick che racconta di una giovane ragazza di nome Sofia che...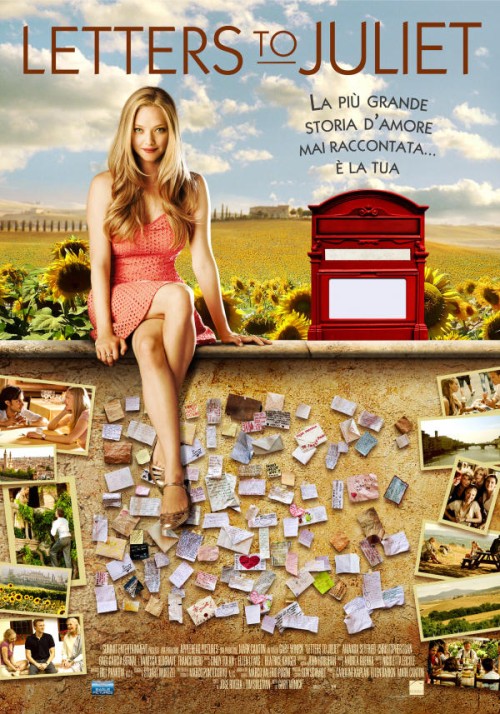 Letters to Juliet
è un film di
Gary Winick
che racconta di una giovane ragazza di nome
Sofia
che compie un
viaggio in Italia
insieme al suo fidanzato. Mentre si trova a Verona decide di visitare il luogo in cui tante persone che soffrono per amore lasciano la propria lettera a Giulietta affinchè questa li aiuti a fare la scelta giusta.
Ed è proprio lì che Sofia trova una lettera scritta molto tempo prima da una donna al suo amante, decide quindi di cercare questa donna e insieme a lei di ritrovare l'uomo che in tutti questi anni ha continuato ad amare segretamente.
La ricerca dell'uomo, tuttavia, non sarà  semplice, soprattutto perchè ha un nome piuttosto diffuso. Sofia, la donna e il nipote di questa, quindi, si ritrovano ad attraversare la Toscana in cerca dell'uomo, alla fine lo troveranno ma questa estenuante e lunga caccia al tesoro porterà  anche ad un'altro risultato.
Sofia, infatti, si renderà  ben presto conto che il suo fidanzato non ha sentito molto la sua mancanza e che nel corso degli giorni trascorsi in Toscana lei e il nipote della donna si sono perdutamente innamorati l'uno dell'altro.
Scheda del film
REGIA: Gary Winick
SCENEGGIATURA: Jose Rivera, Tim Sullivan
ATTORI: Amanda Seyfried, Gael García Bernal, Vanessa Redgrave, Christopher Egan, Franco Nero, Luisa Ranieri, Daniel Baldock, Ivana Lotito, Marina Massironi, Lidia Biondi, Giordano Formenti, Paolo Arvedi, Dario Conti, Milena Vukotic, Luisa De Santis
FOTOGRAFIA: Marco Pontecorvo
MONTAGGIO: Bill Pankow
PRODUZIONE: Applehead Pictures, Summit Entertainment
DISTRIBUZIONE: Eagle Pictures
PAESE: USA 2010
GENERE: Commedia, Romantico
Trailer