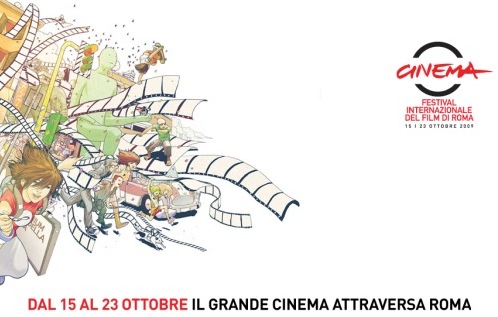 Il 15 ottobre prenderà il via la IV edizione del
Festival Internazionale del Film di Roma
, un evento dedicato al cinema e che di anno in anno acquista sempre più importanza, non solo in Italia ma a livello internazionale.
Quest'anno il presidente della Fondazione Cinema per Roma, Gian Luigi Rondi, ha aperto la conferenza stampa di presentazione dell'evento spiegando di aver voluto cambiare il nome della manifestazione in "Festival", abbandonando il nome "Festa" che invece era stato usato durante le precedenti edizioni.

Per quanto riguarda i film in concorso gli organizzatori hanno spiegato che quest'anno si assisterà  ad una competizione in cui saranno mescolati film di grande appeal con altri più cinefili, senza alcuna distinzione. L'obiettivo, quindi, è quello di creare osmosi nei temi, non è un caso che il programma di quest'anno sia composto da un cinema che riflette e spinge alla riflessione ma che al tempo stesso lascia spazio anche all'intrattenimento più puro e meno pesante.
Ma andiamo a vedere nel dettaglio l'intero programma della IV edizione del Festival Internazionale del Film di Roma.
CONCORSO
After, di Alberto Rodríguez, Spagna, 2009, 116' con Guillermo Toledo, Tristán Ulloa
Alza la testa, di Alessandro Angelini, Italia, 2009, 84' con Sergio Castellitto, Gabriele Campanelli, Anita Kravos, Giorgio Colangeli
Brotherhood, di Nicolo Donato, Danimarca, 2009, 90' con Thure Lindhardt, David Dencik, Signe Egholm Olsen
Chaque jour est une fête / Every Day Is A Holiday, di Dima El-Horr, Francia – Libano – Germania, 2009, 90' con Hiam Abbass, Manal Khader, Raïa Haïdar
Dawson Isla 10 / Dawson, Island 10, di Miguel Littin, Cile – Brasile – Venezuela, 2009, 90' con Benjamín Vicuña, Cristian De La Fuente, Pablo Krog
The Last Station, di Michael Hoffman, Germania, 2009, 112' con Helen Mirren, Christopher Plummer, James McAvoy, Anne-Marie Duff, Kerry Condon
Plan B, di Marco Berger, Argentina, 2009, 103' con Manuel Vignau, Lucas Ferraro, Mercedes Quinteros, Damian Canduci, Ana Lucia Antony
Qingnian / Youth / Gioventù, di Geng Jun, Cina, 2008, 106' con Xu Gang, Yuan Liguo, Li Zhengmin
Les Regrets / Regrets, di Cédric Kahn, Francia, 2009, 104' con Yvan Attal, Valeria Bruni Tedeschi
Triage, di Danis Tanovíc, Francia – Irlanda – Spagna, 2009, 96' con Colin Farrell, Paz Vega, Christopher Lee, Kelly Reilly, Jamie Sives, Branko Djuric
L'uomo che verrà / The Man Who Will Come, di Giorgio Diritti, Italia, 2009, 117' con Claudio Casadio, Alba Rohrwacher, Maya Sansa, Vito
Up In The Air / Tra le nuvole, di Jason Reitman, Usa, 2009, 108' con George Clooney, Vera Farmiga, Anna Kendrick, Jason Bateman
Viola di mare / Sea Purple, di Donatella Maiorca, Italia, 2008, 105' con Valeria Solarino, Isabella Ragonese, Ennio Fantastichini, Maria Grazia Cucinotta
Vision, di Margarethe Von Trotta, Germania, 2009, 111' con Barbara Sukowa, Heino Ferch
FUORI CONCORSO|ANTEPRIMA
Christine Cristina / Christine, di Stefania Sandrelli, Italia, 2009, 92'con Amanda Sandrelli, Alessio Boni,Alessandro Haber
The City Of Your Final Destination, di James Ivory, Usa, 2009, 116' con Anthony Hopkins, Laura Linney, Charlotte Gainsbourg, Alexandra Maria Lara
Le Concert / The Concert / Il Concerto, di Radu Mihaileanu, Francia – Romania – Belgio – Italia, 2009, 149' con Alexei Guskov, Dmitry Nazarov, Mélanie Laurent, François Berléand, Miou Miou, Valeri Barinov
Io Don Giovanni / Io, Don Giovanni, di Carlos Saura, Italia – Spagna, 2009, 115' con Lorenzo Balducci, Lino Guanciale, Tobias Moretti, Ennio Fantastichini
Julie & Julia, di Nora Ephron, Usa, 2009, 123', con Meryl Streep, Amy Adams, Stanley Tucci
Lang Zai Ji / The Warrior And The Wolf, di Zhuangzhuang Tian, Cina, 2009, 104' con Joe Odagiri, Maggie Q, Tou Chung Hua
Oggi Sposi / Just Married, di Luca Lucini, Italia, 2009, 118' con Luca Argentero, Michele Placido, Isabella Ragonese, Carolina Crescentini, Filippo Nigro, Renato Pozzetto, Dario Bandiera, Gabriella Pession, Francesco Montanari
A Serious Man, di Joel e Ethan Coen, Usa, 2009, 106' con Michael Stuhlbarg, Richard Kind, Fred Melamed, Sari Lennick, Adam Arkin
FUORI CONCORSO|ANTEPRIMA – ALICE NELLA CITTÀ
Hachiko: A Dog's Story, di Lasse Hallström, Usa, 2009, 94' con Richard Gere, Joan Allen
Astro Boy, di David Bowers, Usa, 2009, 94' Voci originali: Nicolas Cage, Samuel L.Jackson, Kristin Bell, Voci italiane: Silvio Muccino, Carolina Crescentini,Trio Medusa
Evento The Twilight Saga: New Moon – Presentazione in anteprima di alcune sequenze del secondo capitolo della saga diretto da Chris Weitz, incontro con il cast, la sceneggiatrice Melissa Rosenthal e letture tratte dal libro.
EVENTI SPECIALI: Fuori Concorso|Anteprima – L'Altro Cinema | Extra
Red Riding Trilogy: 1974, di Julian Jarrold, UK, 2009, 105', con Andrew Garfield, David Morrissey
Red Riding Trilogy: 1980, di James Marsh, UK, 2009, 96', con Warren Clarke, David Morrissey
Red Riding Trilogy: 1983, di Anand Tucker, UK, 2009, 96' con David Morrissey, Lisa Howard
Popieluszko, Wolnosc jest w nas / Popieluszko, freedom is within us, di Rafal Wieczynski, Polonia, 2009, 149' con Adam Woronowicz, Zbigniew Zamachowski, Jan Englert, Joanna Jezewska, Magda Kacprzak
Omaggio a Heath Ledger: Proiezione dei suoi film inediti come regista, Incontro con il collettivo The Masses e proiezione in anteprima italiana del film:
The Imaginarium of Doctor Parnassus / Parnassus – L'Uomo che voleva ingannare il Diavolo, di Terry Gilliam, France – Canada – UK, 2009, 122' con Heath Ledger, Johnny Depp, Colin Farrell, Jude Law, Christopher Plummer, Lily Cole, Andrew Garfield, Tom Waits, Verne Troyer
Omaggio a Roma, di Franco Zeffirelli, 20' con la partecipazione straordinaria di Monica Bellucci e Andrea Bocelli
La maglietta rossa, di Mimmo Calopresti, Italia, 2009, 50'
L'uomo dalla bocca storta, di Emanuele Salce, Andrea Pergolari, Italia, 2009, 59'
Omaggio a Luciano Emmer: Le ragazze di Piazza di Spagna, di Luciano Emmer, Italia, 1952, 99'
Dive allo specchio, di Gilles Jacob, Francia, 2009, 15'
L'ALTRO CINEMA | EXTRA: DOCUMENTARI IN CONCORSO
American Boy: A Profile Of Steven Prince /American Prince, di Martin Scorsese / Tommy Pallotta, Usa, 1978 / 2009, 104'
Con Artist, di Michael Sladek, Usa, 2009, 88'
Fratelli d'Italia, di Claudio Giovannesi, Italia, 2009, 90'
Garbo, the Man Who Saved the World, di Edmon Roch, Spagna, 2009, 88'
I Knew It Was You, di Richard Shepard, Usa, 2009, 40'
L'Italia del nostro scontento, di Elisa Fuksas, Francesca Muci, Lucrezia Le Moli, Italia, 2009, 90'
Latta e Cafè – Riccardo Dalisi, Napoli e il teatro della decrescita, di Antonello Matarazzo, in collaborazione con Bruno Di Marino, Italia, 2009, 63′
Mamachas del Ring / Mamachas of the Ring, di Betty M. Park, Bolivia, 2009, 75'
PIN2011 – Erinnerung an die Strasse / PIN2011 – Recollection of the Street, di Torsten König, Germania, 2009, 53′
The One Man Beatles, di Cosimo Messeri, Italia, 2009, 56'
Severe Clear, di Kristian Fraga, Usa, 2009, 93'
Sons of Cuba, di Andrew Lang, Gran Bretagna, 2009, 88′
L'ALTRO CINEMA | EXTRA: LUNGOMETRAGGI FUORI CONCORSO
The Afterlight, di Alexei Kaleina, Craig Macneill, Usa, 2009, 87'
Bancs publics (Versailles rive droite) / Park Benches, di Bruno Podalydès, Francia, 2009, 110′
Bunny and the Bull, di Paul King, Gran Bretagna, 2009, 95′
Corked!, di Paul Hawley, Ross Clendenen, Usa, 2009, 90'
Het Leven uit een Dag / Life in One Day, di Mark De Cloe, Olanda, 2009, 98'
Juryoku Pierrot / Gravity's Clowns, di Jun-ichi Mori, Giappone, 2009, 119′
Moja Krew / My Flesh My Blood, di Marcin Wrona, Polonia, 2009, 90′
Rewizyta / Revisited, di Krzysztof Zanussi, Polonia, 2009, 96′
Simon Konianski, di Micha Wald, Francia – Belgio – Canada, 2009, 100'
Tokyo Ningen Kigeki / Human Comedy in Tokyo, di Koji Fukada, Giappone, 2009, 140'
Paulo Coelho's The Experimental Witch, AA.VV., Italia, 2009, 110'
L'ALTRO CINEMA | EXTRA: EVENTI SPECIALI
Antonio Ligabue: fiction e realtà / Antonio Ligabue: between fiction and reality, di Salvatore Nocita, Italia, 70'
Immota manet, di Gianfranco Pannone con gli allievi dell'Accademia dell'Immagine de L'Aquila, Italia, 2009, 10′
L'Aquila bella mè / My Sweet L'Aquila, di Pietro Pelliccione e Mauro Rubeo, Italia, 2009, 70'
Rupi del Vino / Wine's Rocks, di Ermanno Olmi, Italia, 2009, 54′
Maria Lai. Ansia d'infinito / Aim to Infinity, di Clarita Di Giovanni, Italia, 2009, 50′
Sotto il Celio Azzurro, di Edoardo Winspeare, Italia, 2009, 80'
University of Southern California – Giovani autori dell'animazione, AA.VV, Usa, 2007 – 2009
H.O.T. "Human Organ Traffic", di Roberto Orazi, Italia, 2009, 60'
ALICE NELLA CITTÀ: CONCORSO
The Be All And End All, di Bruce Webb, Inghilterra, 2009, 100' con Eugene Byrne, Josh Bolt, Connor McIntyre
A Boy Called Dad, di Brian Percival, Inghilterra, 2009, 80' con Kyle Ward, Ian Hart, Charlene McKenna, Sacha Parkinson
Dear Lemon Lima, di Suzi Yoonessi, Usa, 2009, 87' con Meaghan Jette Martin, Zane Huett, Sahyne Topp, Melissa Leo
Last Ride, di Glendyn Ivin, Australia, 2009, 90' con Hugo Weaving, Tom Russell, Anita Hegh, John Brumpton, Sonya Suares, Kelton Pell
Marpiccolo, di Alessandro di Robilant, Italia, 2009, 87' con Giulio Beranek, Anna Ferruzzo, Selenia Orzella, Michele Riondino, Nicola Rignanese, Roberto Bovenga, Giorgio Colangeli, Valentina Carnelutti
Mille neuf cent quatre-vingt-un, di Ricardo Trogi, Canada, 2009, 132' con Jean-Carl Boucher, Claudio Colangelo, Sandrine Bisson
Nat e il segreto di Eleonora, di Dominique Monféry, Italia-Francia, 2009, 78'
Prinsessa – Starring Maja, di Teresa Fabik, Svezia, 2009, 90' con Zandra Andersson, Moa Silén, Maria Lundqvist, Anastasios Soulis
La Regate, di Bernard Bellefroid, Belgio-Lussemburgo-Francia, 2009, 100' con Joffrey Verbruggen, Thierry Hancisse, Sergi López, Penelope Leveque, David Murgia, Hervé Sogne, Stephanie Blanchoud
Skellig, di Annabel Jankel, Inghilterra, 2009, 102' con Tim Roth, Bill Milner, Kelly Macdonald
Vegas, di Gunnar Vikene, Norvegia, 2009, 108' con Jørgen Hausberg, Karoline Stemre, Sindre Kvalvåg Jacobsen, Anders Baasmo Christiansen, Gregory Hines
Winter in Wartime, di Martin Koolhoven, Olanda – Belgio, 2009, 103' con Martijn Lakemeier, Yorick van Wageningen, Jamie Campbell Bower
ALICE NELLA CITTÀ: FUORI CONCORSO
Turtle the incredible journey, di Nick Stringer, Austria, 2009, 80'
Sotto il Celio Azzurro, di Edoardo Winspeare, Italia, 2009, 80'
OCCHIO SUL MONDO
The Cove, di Louie Psihoyos, Usa, 2009, 85'
Ghost Bird, di Scott Crocker, Usa, 2009, 85'
Strade d'acqua, di Augusto Contento, Francia – Italia – Brasile, 2009, 115'
The End of The Line, di Rupert Murray, Uk, 2009, 85'
La questione nucleare, di Ugo Fabrizio Giordani, Italia, 2009, 75'
A Thousand Year Song of Baobab, di Seiichi Motohashi, Giappone, 2009, 102'
H2Oil, di Shannon Walsh, Canada, 2009, 75'
Latta e cafè, di Antonello Matarazzo, Italia, 2009, 63′